You must call DigSafe® at 811 before starting any digging project — it's the law.
You may be eager to dig your shovel in and plant a beautiful birch in your front yard, or begin excavating a new lot, but don't break any ground before calling DigSafe at 811. In the event that you hit a utility line, you could incur a fine or cause injury to yourself.
By law, anyone planning to excavate is required to call DigSafe at 811 at least three working days (72 hours) before any disturbance begins.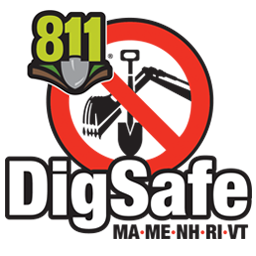 DigSafe is an underground damage prevention call center system which notifies the applicable utilities (comprised primarily of water, cable, electric, natural gas, and telecommunication companies) of your excavation activities. DigSafe® is not the company that performs the locating of the underground facilities. Each utility is responsible for performing the location of their own facilities.
Whether you're landscaping, building an addition or starting new construction, before you dig it's critical to call DigSafe at 811 to avoid property damage, personal injury and possible fines. At no cost to residential customers, the system will notify all relevant utilities of your planned work so that they may mark the approximate locations of their buried lines and pipes, which may conflict with your work area. Please wait three working days for the utilities to make their marks before beginning your project, and respect and maintain the marks that have been made, digging with care.
If you do damage to underground facilities, including a natural gas pipe or electric line while digging, you endanger not only your safety but the safety of others. You may also be responsible for the cost of repairing the damaged utility. In addition, if you have retained contractors to work for you, be certain they call DigSafe at 811 before beginning any work.
Esta información es importante.
Por favor haberlo traducido.
Cette information est importante.
S'il vous plaît veuillez faire la traduction.